Since I work full time outside of my house, I am not home during the day much at all.  But when your baby boy is sick, he wants his mom to be home with him.  So while he's on the couch resting up from a fever, sore throat and body chills, I'm in my craft room playing catch up!  I haven't broadcasted any big holiday deals on my site this year as it's been another crazy year.  But I have had a few people contact me to do some special requests.  I also had a large order for another small business and I  was able to get out the door today.  I love being able to do  what I do as a side business still.  It's been about 5 years since I've been fully going after actually making money and supplementing my families income with my hobby and it's been going wonderfully ever since!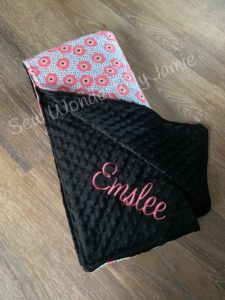 Anyways- I was able to get out a few Etsy orders this morning and now I get to play catch up on a few hockey mom scarves that I have to finish.  Good things I see those ladies a few days a week!  I also was able to finally set up my Zebra label printer!  This will make shipping a BREEZE!!  No more bending over to load label paper into my regular printer.  Just click PRINT and bam, a label is on label paper and I can just tear it off and stick it on!
Hope everyone stays as healthy as they can this holiday season! I just got a text that a couple more kids on my son's team are sick too, so they are just spreading the sickies over there.  Let's hope everyone is feeling 100% when Sunday's game rolls around!
400 total views, 15 views today