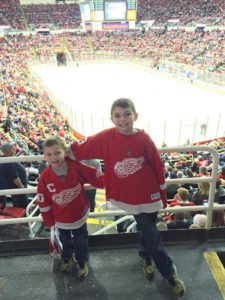 As most of you know, both my kids love sports! And right now we are in the full swing of hockey season with games every weekend and a few during the week!  Brody, who is 12, is in PeeWee Hockey and Caden, who is turning 8 next week, is playing Squirt Hockey.  They both LOVE the sport and we love watching them play!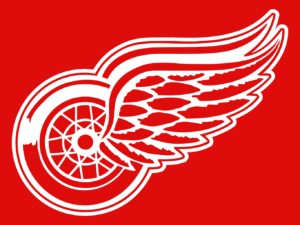 We are headed to a Detroit Red Wings hockey game next month.  I wanted to be able to go Joe Louis Arena one more time before they open up the new Little Caesars Arena and with our own hockey schedule it was very hard to find a time to go.  But we found a date and got our tickets!! I'm so excited because I LOVE going to Hockeytown.
If you've never been to a NHL hockey game, you need to go!  And if you've never been to Hockeytown, you REALLY need to go.  Watching an NHL hockey game is like no other professional sport.  There is so much action, crowd interaction and it's just a fun sport to watch.  We used to go all the time back when I was in middle school and high school and I LOVED watching the game.  I even had a University of Michigan hockey jersey that my parents got me for Christmas one year.  And then I met Chris, who grew up playing hockey, and watched him play some, and now my son's love playing the sport so I'm so glad it's still in my life!
1,948 total views, 5 views today