So we dropped our kids off at summer camp on Sunday.  This is their first time away from us or any other family members for more than 3 days.  They are away for 6 days.  While they are at the same camp, I think that Brody and Caden will both enjoy growing up and making some decisions on their own.  I keep reading articles about how summer camp is good for kids and then there are some parents that think it's crazy to send your kids away.  I think that it's a great learning experience for them.  They get to grow and depend on themselves and learn independence from their parents.  They get to meet new people and look up to their counselors and peers and maybe even make new lifelong friends!  I never went to a summer camp when I was little so I am wanting to give my kids the experiences that they can have for a lifetime.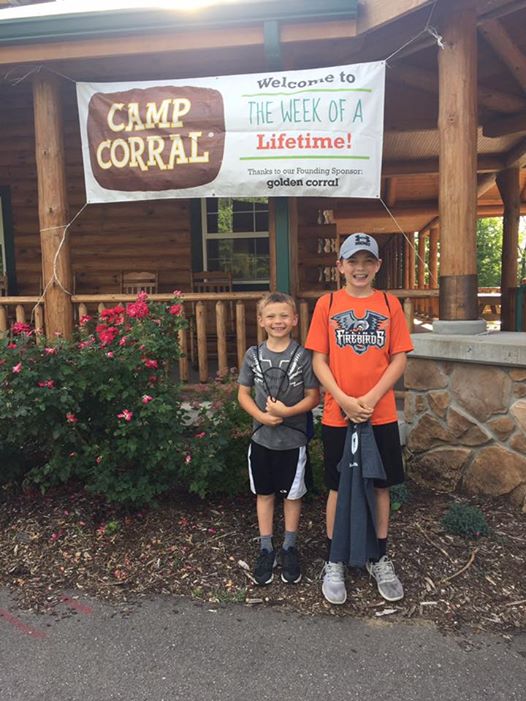 I found this article online and I loved it.
http://healthland.time.com/2012/08/03/summer-camp-great-for-kids-maybe-even-better-for-parents/
Yes Caden is only 8 and he was a bit anxious to go but he heard all about Brody's 7th grade camp experience and he wanted to do something like that himself.  They both also went to a day summer camp for a few weeks last year and they loved it too! So I think the overnight aspect is something he will grow from.  Of course, some kids at the age of 8 aren't ready to stay that long away from their parents, and that's quite ok.  But my kids were ready.  I'm sure it helps that Brody is at the same camp, and he's actually right across the hall at the bunks so that might help with Caden being nervous at all.  
Now Brody is begging to go to summer camp, he is at the age where he wants nothing to do with us, he's too cool for his own good and I'm ok with that.  Maybe going away to camp more will help him learn to pick up after himself, be more independent and we can be more reliant on him in other aspects too.  He is also there without his phone, so free from distractions and any other electronics is great for a 12 year old's brain too.  He kept saying he needed his phone, but nope you sure don't!
And most camps these days, your not out of the loop as to what they are doing.  I've already gotten an email, I've seen pictures of their first night and we can send them emails and they get them as daily "mail" too.  I could send them something in the regular mail but let's face it, it might not get there in time!  
The camp they are attending this week is called Camp Corral. The mission of Camp Corral is to transform the lives of children of wounded, injured, ill, and fallen military heroes by providing a unique summer camp experience.  My husband is a disabled veteran and some of my friends from the Army mentioned this camp to me and I signed the boys right up!  It's a free camp because of donations from Golden Corral and other companies to give kids that might not be able to experience camp a way to enjoy their summers off.  Kids that come from a military family sometimes have a different life at home, due to different injuries their parents might of had, or different situations at home due to PTSD and or the loss of a limb, this is the opportunity for them to forget about the tough times they might have and enjoy it with kids their own age.  Maybe they will even make some lifelong friends!  Our kids are fortunate enough to have met some other Army Brats in hockey and they are at this camp too so they know some friends already!
I can't wait to see them on Saturday morning and I know they will be dirty, tired and worn out but I bet they have memories that last a lifetime.  And they might of build up some more self confidence along the way!
Send your kid to camp, they will love you later!
Happy Sewing!
~Jamie
2,278 total views, 5 views today