With a few new babies coming from friends and family, it's the perfect opportunity for me to use my new multi-needle embroidery machine and make those cute gifts I'd been dying to make for awhile.  With my single needle, it's not as easy to make these so I had shyed away from making bigger named projects just because it's so complex.  But no longer will I do that!! I LOVE my new Brother Entrepreneur PE-650e!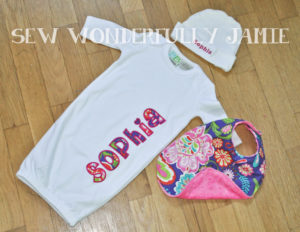 I made this matching set for my old co-worker/friend who is due with a little girl around Thanksgiving.  We are throwing her a little shower today with some co-workers and it will be fun to see all my old friends!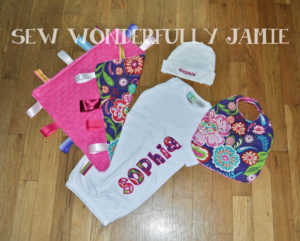 The gown was ordered and I appliqued her name onto it.  I found this fabulous fabric at Hobby Lobby, so bright and cheerful!!  I made her a matching bib with the pattern that my aunt mailed me when I was pregnant with my son 9 years ago!  It's a great pattern and perfect size for babies!!  And homemade is WAY better then store bought!  I also purchased the little knit hat and put her name on it too!  Perfect for hospital pictures!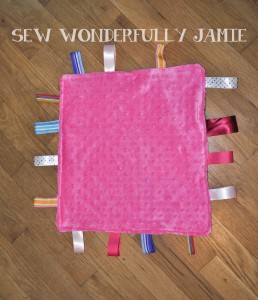 Making this tag blanket was super easy.  Just use a 12″ x 12″ piece of fabric and minky backing, along with various ribbons and stitch it together.  Babies love these things!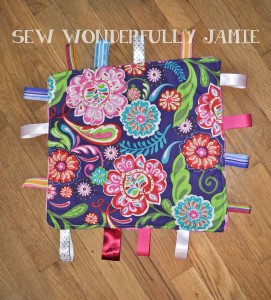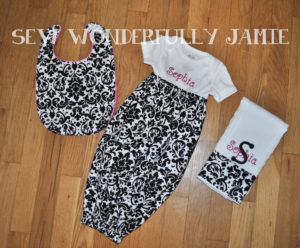 made her this beautiful gown out of a onsie and fabric.  I saw a few patterns on Pinterest and kinda made up my own.  I didn't take pictures, but maybe next time.  It has elastic on the bottom just like the regular gowns.  Matching bib with minky on the back and a personalize burp cloth for Miss Sophia!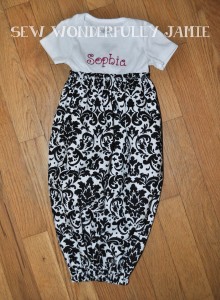 I can't wait to see her open it today, which is why I set the blog to publish later on so she won't see it til she opens it at the shower!!!  Congrats Matt & Amanda!
5,383 total views, 5 views today