This post is brought to you by Dove.  I received a complimentary product to use and test and the opinions are all of my own.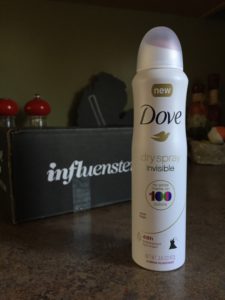 I was so excited to be selected by Influenster to try out the Dove dry spray invisible antiantiperspirant.  I opened the box and it came in this lightweight bottle that is perfectly formed to be able to easily spray with 1 hand while your getting ready in the morning.   I had heard about this dry spray from a friend before I was going to a wedding this summer and was interested in trying it.  I HATE when you put deodorant on and you have white balls of clumped deodorant under your armpits or you use the clear kind and it's sticky and it just doesn't work as well to keep you try.  This dry spray is meant to keep you dry, feel dry and not leave white marks on any of your clothing.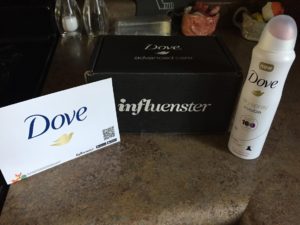 We went to Chicago this Labor Day weekend for a family wedding and I had found a cute dress to wear from Target.  It was on clearance and I also had a cartwheel discount so I got it for around $13!! Who doesn't love a good discount.  Anyways, the dress was a dark blue and I didn't want to have to worry about having deodorant marks on the dress all night.   I did buy some of the dry spray and it worked great! And if you know me, I love my deodorant, I used to carry a small deodorant in my purse all the time because I HATE the way I feel when I'm sweaty.  This Dove product worked great and I was able to dance the night away and not worry about lifting my arms up at all!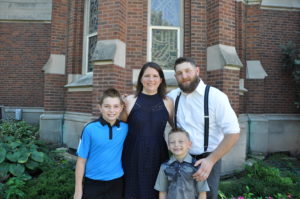 This product will be great in the summer when your wearing your tank tops all the time and don't want a clumpy mess to deal with.  You can wear black without worrying if your going to have any smear marks on your shirts when your putting them on too.  Way to go Dove!
Dove Invisible Antiperspirants are specially formulated to leave no white marks on 100 colors of clothing.  Offered in Dove Advanced Care and Dove Dry Spray formats, these antiperspirants provide 48-hour odor and wetness protection plus Dove 3/4 moisturizers for added skin care benefits, for softer, smoother underarms.
1,547 total views, no views today