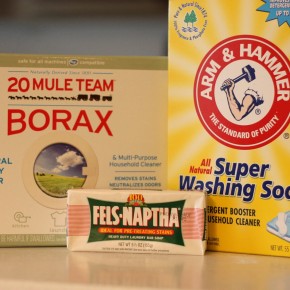 Awhile back I posted about how I made DIY powder laundry soap!  And it works amazing.  I had gotten away from it because life was busy and I just went and got Purex since it's usually on sale but I decided to again try to make my own laundry soap.  This time I decided to try the liquid kind!  I'm not a huge fan of powder laundry soap, because sometimes it leaves residue on dark materials so I thought liquid would be better.  And it is! I followed this recipe and used a 5 gallon Home Depot bucket to store it in our basement.  We will now have soap for a long time!! And it will get the test soon when baseball season starts in full swing and grass stains are coming out of baseball uniforms!  I don't have essential oils so I didn't add the fragrance to the soap but the smell isn't that bad.  I don't mind it.
I bought all my ingredients at Wal-Mart this past weekend.  You can order stuff on Amazon but the price is deeply inflated so you won't get as good as a bargain for it.  I also used my Wal-Mart Savings Catcher App to see if any local stores had lower prices and it came back no matching deals found!
Pricing:
Fels Naptha $0.97
Borax $3.97
Arm & Hammer Washing Soda $3.97
Let me know if you decide to make your own soap too and comment below!
3,201 total views, no views today