So I've had an Etsy business for quite some time and I do lots of fun embroidery and vinyl things.  But I've wanted to try and make kids clothing for some time now.  Well I purchased a serger last month and I've made a few things and now that Christmas is over, I'm excited to try some new patterns out!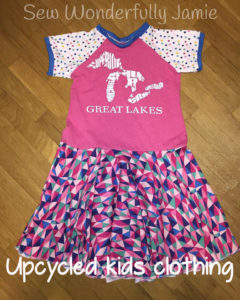 I made this upcycled dress for my niece and it turned out so great! I found the shirt at a thrift store and went and got some matching fabrics to go along with it and turned it into a cute dress!  I found a bunch of other cute shirts at the thrift store that I can't wait to try and make into cute outfits also.
My mom has been making these cute upcycled scarves for quite a while now and she took a break but lots of people have been asking for them again so she made some more this holiday season.
I'll be posting what I make on my Facebook page but you can also follow along on my Pinterest page too and see my new ideas as they come to life!
1,881 total views, no views today