I always had a want to make cute monogrammed shirts, saying how cute they were and I'd love to learn to do them someday.  Then came the reality of a work bonus one year that allowed me to purchase a machine that I wanted so I could start doing what I knew I'd eventually would love.  If your like me, the following will help you a ton and get you well on your way to introduction to embroidery.
Things you'll want to purchase-
Embroidery Machine
Thread
Interfacing
Scissors to trim designs
Now first off, you'll need a machine.  I knew that I wanted to start out with a 5×7 sized hoop because I didn't want to be limited with my designs and grow out of a machine within a week of having it.  So after a lot of research I decided on a Brother PE-770.  This is an embroidery only machine, meaning you can't use it for anything else but that.  It does not work as a regular sewing machine at all.  You can do applique, monograms and lots of different embroidery designs with this machine though.  When you start out, it can be intimidating but I watched lots of you-tube videos and read lots of blogs so I knew how to use it.  I also managed to get a good deal on the machine, after stalking the internet for sales and deals (who doesn't love a good bargain) I found a machine on Amazon Warehouse that had been returned and they were reselling for a discounted price.  Now some might say that's crazy but the description said that it was in great shape and wasn't used.  They were right, it still had the tape on certain things, meaning the person might of bought it and said wow, I don't know what I'm doing so they just sent it back.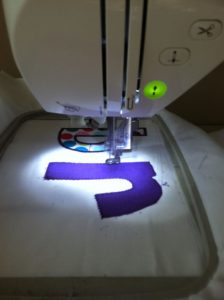 After you get your machine, you'll want to read the book and go over some of the designs that come pre-loaded on the machine and try doing a few basic things with it.  There are a few different alphabets pre-loaded on the machine plus a few other designs.  You'll want to get a USB dongle so you can save designs you've downloaded from the internet too.  This is easier than trying to hook your computer up to the computer all the time and then you can use it over and over again.
You'll need to get assorted colors of thread that you will want for the designs you'll be doing.  You'll also need bobbin thread for the machine.  You can either buy pre-wound bobbins or the machine has an area to wind the bobbins up for you.  I liked using the Brother bobbin thread, it seemed to work best with that machine.
You'll also need fabric if your wanting to do appliques.  Different colors will be needed for different designs.  There are SO many websites out there with designs to download and use.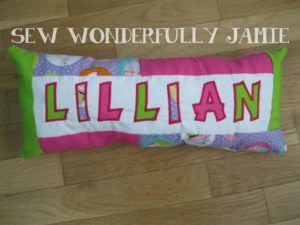 One of the very first things I made were these name pillows for all sorts of people in my family.  I bought a basic applique alphabet from someone online, and then would line up each letter and stitch out the pillows and sew it right up.  I just LOVED that I was able to make personalized gifts for family members.  I always feel that handmade gifts come from love so that means more than some store bought gift for sure.
You will have a few other accessories for your machine, you'll want some really good scissors to trim your applique fabrics.  There will be tight corners and hard areas to cut, so I love this style.  The curved scissors.
But it all depends on what style you'd prefer.
You'll also need stabilizer because that goes under the fabric so that you have a stiff background for it to stitch into and hold the design up through the fabric.  There are cut away, tear away, thick, thin and other kinds.  Again, once you start learning embroidery you'll know what kinds you'll need for what projects.
This is pretty much what you'll need to get started.  I have since grown out of this Brother PE770 machine and I have a Brother PE655e 6 needle embroidery machine now.  I LOVE IT!! I love that I can do SO many different things, make such large designs and embroider jackets for my son's hockey team with ease.  You'll find what you love and move up and change machines as you grow.
2,052 total views, 5 views today